7 Delicious Gluten Free Pasta Recipes You'll Want to Try
Blogger
Delicious Gluten Free Pasta Recipes You'll Want to Try
Being gluten free doesn't mean that you can't enjoy a delicious pasta dish, so check out these awesome recipes for gluten free pasta that you'll want to try!
Going gluten-free can be intimidating, especially for pasta lovers — but there are plenty of ways to enjoy pasta and still maintain a gluten-free lifestyle.
We've gathered up seven great gluten free pasta recipes!
7 Delicious Gluten Free Pasta Recipes
It's important to realize that gluten free pasta doesn't always act like wheat pasta. Since it loves to stick together, cook it in plenty of salted water. Stir often, and check for doneness early. Gluten free pasta tends to become mushy when overcooked.
Lemony Tomato-Basil Pasta Salad
source: The Comfort Kitchen
Make this pasta salad is in late summer when tomatoes and basil are plentiful. This is a perfect potluck offering since it can sit at room temperature with no ill effects.
Cook fusilli according to package directions. Drain and rinse with cold water.
Zest and juice lemon, chop tomatoes, and chiffonade basil. Place in a large bowl.
Add oil, garlic, lemon zest, and juice.
Once pasta has cooled, add it to the tomato-basil mixture. Sprinkle with Parmesan and season with sea salt, pepper, and red pepper flakes. Toss to combine.
Tex-Mex Mac-n-Cheese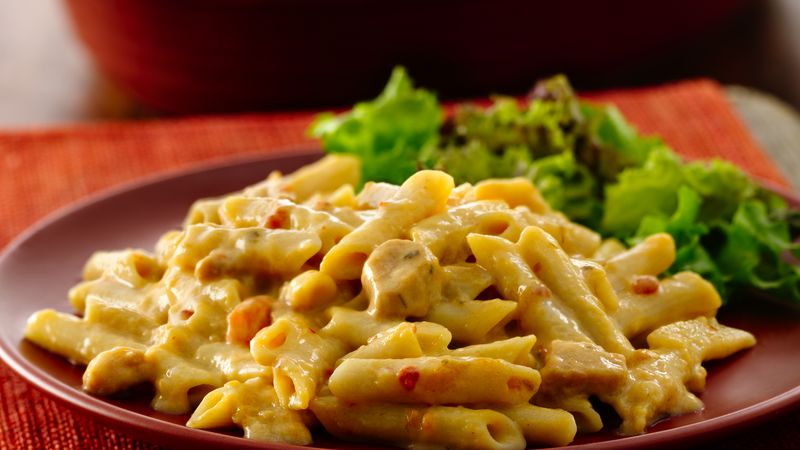 source: Betty Crocker
Who doesn't love macaroni and cheese? We've given this classic a Tex-Mex twist.
Preheat the oven to 400F.
Cook reginette according to the package directions. Drain and set aside.
Heat a large, heavy-bottomed Dutch oven. Add chorizo and cook, breaking up the meat into small pieces. Remove with a slotted spoon to a medium bowl and set aside.
Reduce the heat to medium and add the butter. When it melts, add onion and cook 6 minutes. Add the garlic and next four ingredients. Cook, stirring occasionally until the flour has darkened.
Whisking constantly, slowly add the milk to the flour mixture. Cook, stirring often, until the mixture comes to a simmer and thickens slightly, 8 to 10 minutes.
Add cheese by handfuls, stirring to combine between handfuls. Remove from heat.
Combine pasta, chorizo, green chiles, and sauce.
Transfer the mixture to a 13-by-9-inch baking dish. Bake 20-25 minutes.
Easy Fettucine Alfredo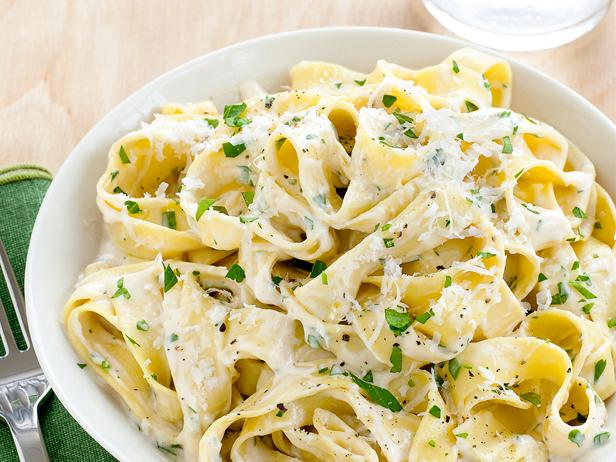 source: The Food Network 
Did you know that Fettucine Alfredo was first cooked to tempt a pregnant woman who was suffering from morning sickness? Of course, nowadays everyone can enjoy this delectable entree.
Combine butter and oil in a saucepan over medium heat. Cook, stirring, until butter melts.
Add cream cheese and garlic powder.
Add milk, a little at a time, whisking between each addition, until smooth.
Stir in Parmesan, salt, and pepper.
Remove from heat. Sauce will thicken as it cools.
Combine with cooked pasta.
Double Lentil Stew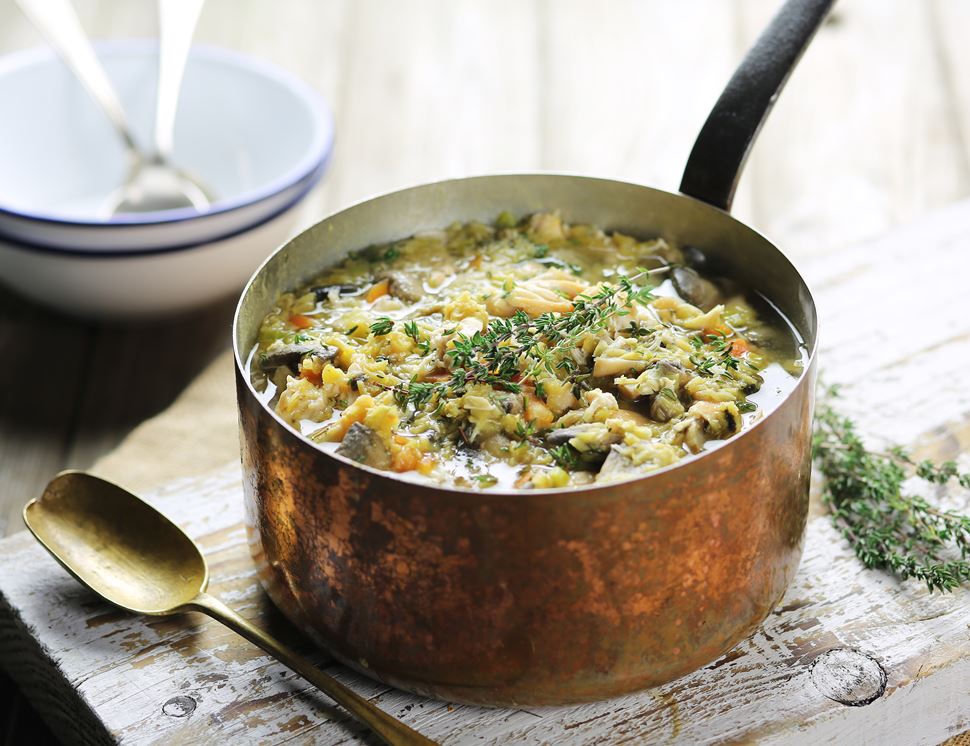 source: Abel & Cole
This hearty vegetarian stew is great on a cold autumn evening!
Rinse and drain the dry lentils.
In a medium saucepan, combine all ingredients.
Simmer over medium-low heat for 45-50 minutes, or until lentils and vegetables are tender, stirring occasionally.
Cook pasta until just al dente. Drain and add to stew.
Spicy Puttanesca Pasta
Some like it hot! If you're a chili-head, you'll love this recipe.
Cook pasta according to package directions. Drain thoroughly.
Heat oil in a heavy-bottomed saucepan. Saute garlic 2 minutes. Do not burn garlic.
Add tomatoes, olives, capers, and red pepper flakes, and simmer for 30 minutes, uncovered. Stir occasionally.
Add pasta to prepared sauce. Top with basil and parsley.
Creamy Sausage Pasta Skillet
source: normalcooking.com
Here's a satisfying pasta skillet that cooks up quick.
Cook pasta according to package directions. Drain.
Heat oil in a heavy skillet over medium heat. Add sausage and cook until no longer pink, about 7 minutes.
Remove to a paper towel-lined plate to drain. Return skillet to heat. Use a paper towel to remove some, but not all, of the remaining oil.
Add onion and cook until soft. Add garlic and cook until fragrant, 2 minutes.
Add tomatoes, cream, and salt. Simmer until mixture thickens slightly, about 4 minutes.
Add pasta to sauce and heated through. Sprinkle with parsley and parmesan.
One-Pot Spinach-Artichoke Heart Pasta
Al the flavor of the classic party dip, made into a pasta! Bonus: it all cooks up in one pot, so there are fewer dishes to wash!
Add butter and garlic to a large saucepot with a lid. cook over medium heat for 2 minutes.
Add the chicken broth, milk, and pasta to the pot. Make sure the pasta is fully submerged, cover, and let mixture come to a simmer.
Immediately turn the heat down to low. Cook for about 12 minutes, or until pasta is al dente. Stir every few minutes to make sure mixture doesn't stick to the bottom. If needed, reduce heat.
Once the pasta is tender, turn off the heat. The sauce may be thin, but it will thicken as the rest of the ingredients are added. Add the spinach, a handful at a time, to the hot pasta and sauce, tossing, until spinach is wilted.
Stir the chopped artichoke hearts into the pasta. Top with cheese and stir to combine. Serve.
Want More Gluten Free Pasta Recipes?
We hope you try some of the recipes for your next pasta night. Let us know what you think in the comments, and be sure to bookmark our blog. Check back frequently for recipes, trivia, and tips!